Available Now
Available at CMMG dealers and online at CMMG.com starting November 7th, 2023. The DISSENT Mk47 revolutionizes our iconic mid-size Mk47 by combining it with our patented Compact Action operating system found in the DISSENT line of bufferless AR pistols and rifles. Built with beefier and more robust components like our Powerbolt Technology, .308 Win sized bolt and shortened carrier, the Mk47 DISSENT continues the tradition of being overbuilt since it's inception nearly a decade ago. Like the original Mk47s, the DISSENT Mk47 still takes AK47 pattern magazines and utilizes standard AR15 controls, pistol grips, and AR trigger groups.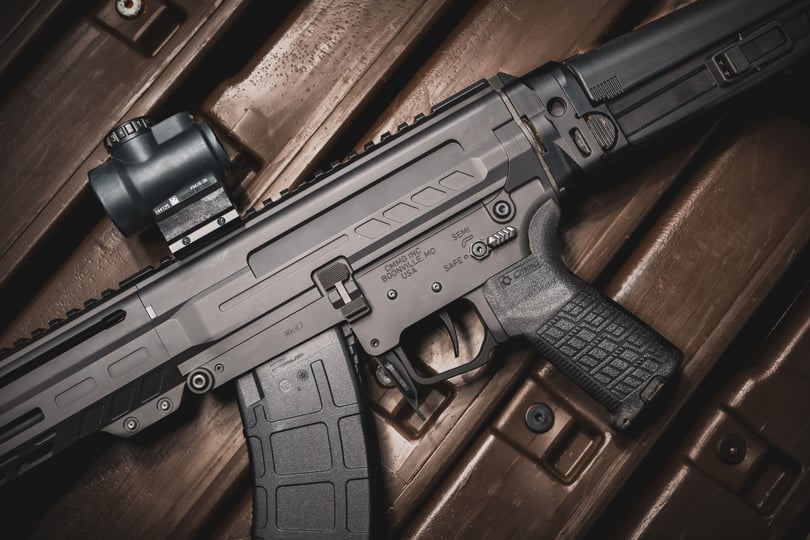 Manual Bolt Catch
New to the Mk47 platform is the manual bolt catch. While most AK magazines don't have followers that engage a bolt catch for last round hold open functionality, the Mk47 bolt catch still allows for manually locking open the action, a requirement at many ranges where it's necessary to show clear during a cold range, as well as handy during firearm cleaning or inspection.
---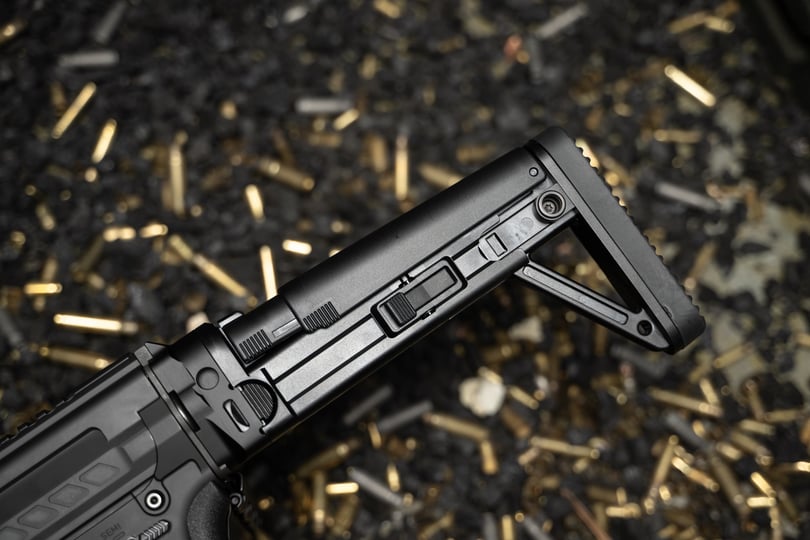 New DISSENT Folding Stock
For 2024 all DISSENT rifles and SBRs are equipped with the new DISSENT Side Folding Stock. A lightweight and comfortable stock with tons of adjustability built in, including:
8-position length of pull adjustment
3-position adjustable height cheek riser
3 QD sling sockets
Padded rubber butt pad


---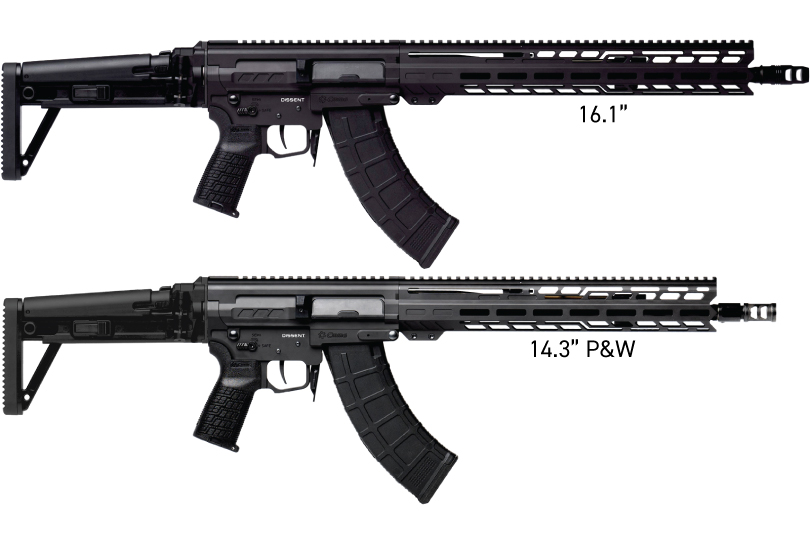 Barrel Lengths
The Mk47 DISSENT will be available in two barrel lengths 16.1" as well as the 14.3" P&W with the new CMMG ZEROEDTM SVD Brake pinned and welded to the muzzle, bringing the overall length to 16.1".
---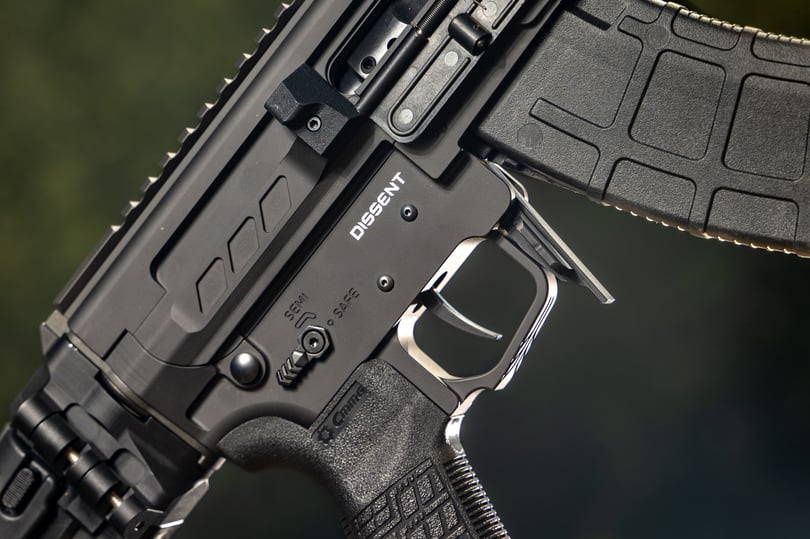 Enhanced Trigger
New to the entire CMMG lineup as well as the Mk47 DISSENT, is the ZEROED Single Stage Drop-In Trigger. Made to ignite even the toughest steel case primers, the ZEROED trigger is compatible with a variety of AR platforms including AR15, AR10/LR-308, Mk47®, and DISSENT® firearms. With a 4.5lb pull weight and single-stage operation, the ZEROED trigger is a great choice for compact personal defense weapons and long-range precision rifles alike.
---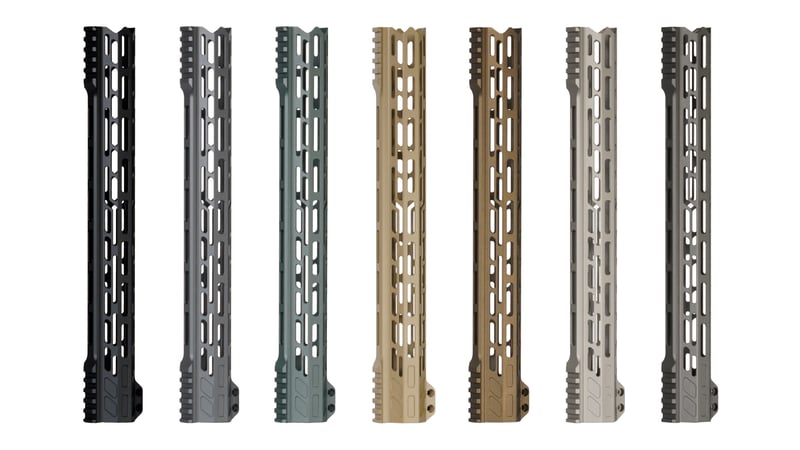 Multiple Cerakote Colors
Available in seven Cerakote options, there's a Mk47 to suit any taste.
Colors from left to right
Armor Black, Sniper Grey, Charcoal Green, Coyote Tan, Midnight Bronze, Titanium, Tungsten
---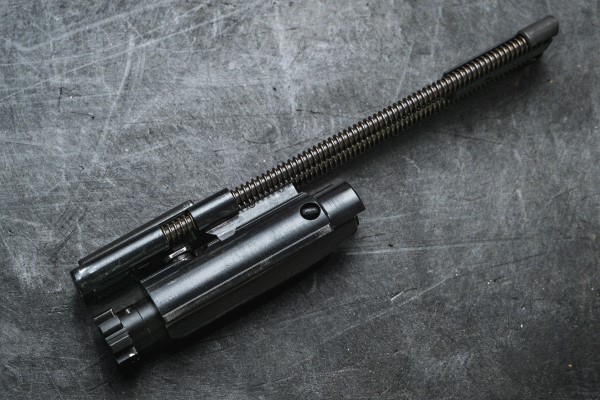 Bufferless Compact Action & POWERBOLT
Combining the patented Compact Action from the DISSENT and shamelessly overbuilt POWERBOLT from the original Mk47, the heart of the new Mk47 DISSENT remains ruggedly built with innovations for the modern range enthusiast.
Keep Me Posted
Sign up for notifications about the DISSENT Mk47 and get the latest updates AND be the first to know when it's available.
Rifle, DISSENT, Mk47, 7.62x39mm, 14.3" P&W
Rifle, DISSENT, Mk47, 7.62x39mm, 16.1"
Pistol, DISSENT, Mk47, 7.62x39mm, 14.3" P&W
Pistol, DISSENT, Mk47, 7.62x39mm, 16.1"
*Pre-production models shown